I'd like to enter this forum, with links to two illustrated critiques I have written, and expecting feedback:
One is a review of an octahedral map projection (1996 and 2010) by Steve Waterman
, resembling the 1909 Butterfly World Map of B.J.S. Cahill.
The other is a very detailed 17-part commentary on Buckminster Fuller's layout:
Evolution of the Dymaxion Map: An Illustrated Tour and Critique.
I am a retired world politics prof and proponent of the world map designs of
B.J.S. Cahill (1866-1944)
.
They are an octahedral transformation predating Fuller's icosahedral, and much superior to Bucky's, in my opinion, as spelled out above.
I have also been developing my own modification of the Cahill design, but that has been a long slow project.
Cahill, 1909: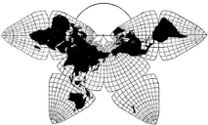 Cahill-Keyes, 1975: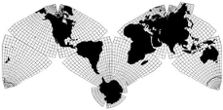 The Waterman review above uses close-ups of his design and mine, to compare and contrast our different approaches.