Hi everyone. I received a link to this site from the Women in GIS newsgroup, so I hope that means that there are some women in GIS here! I work for a non-profit that helps recruit and retain women to male-dominated occupations (like GIS). Please read below as we're looking for women to help in our CalWomenTech project!
Would you like to give a helping hand to other women studying to be or already in the field of GIS? Do you wish someone had helped you?
Now's your chance to become a
WomenTechWorld.org e-Mentor
and support other women either working in or studying to work in a GIS occupation to help them achieve their career goals.
We're especially looking for women in a GIS occupation to become e-Mentors for the female students of San Diego Mesa College in California as part of our CalWomenTech Project.
If you or someone you know would make like to be an e-Mentor for a woman in a GIS occupation please visit
womentechworld.org
to sign up.
To find out more about the CalWomenTech Project, visit the
CalWomenTech Summary
page.
If you don't think you have time to be an e-mentor, consider becoming a Role Model for other women in GIS.
Please read some of the Roel Model stories on-line by
clicking here
, and then submit your own information by
clicking here
and filling out our easy-to-use on-line form. Please note a photo is required for all role model profiles. If you are chosen to be a womentechworld.org role model we will contact you to schedule a phone interview to write up your story.
Lastly (thanks for reading this far!), if you can think of someone that would like to be an e-Mentor or Role Model for a woman in GIS, please send them our flyer below (or print it out and pass it out at work!):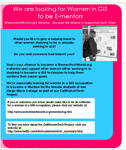 Thanks for the support!
Sophia Teper
www.womentechworld.org * www.iwitts.com
WomenTechWorld.org - Because We Believe in Supporting Each Other